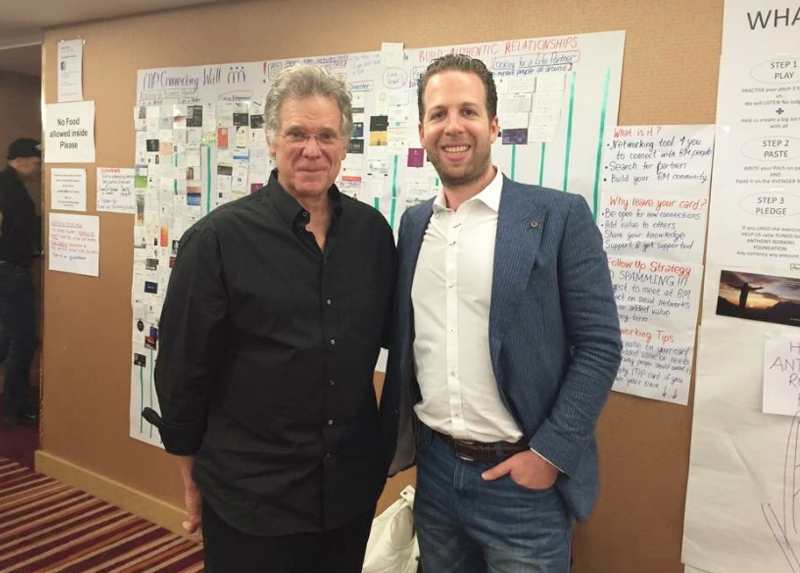 With Keith Cunningham, entrepreneur and international speaker, in front of the "connecting wall"
I first found out about Keith's ideas when I was reading a book by Robert Kiyosaki "Rich Dad, Poor Dad". I was very curious to know who the rich dad was because Robert does not mention his name in the book. Only a few years later I found out that the wealth ideas presented in the book are based on the personal finance course that Keith Cunningham wrote for Kiyosaki.
When I went to Tony Robbins's business mastery event, which I helped organizing, I found out that Keith Cunninghamwas coming in to speak about financial freedom. He was a very special person to meet but the event was so busy that it was almost impossible to get to him.
One of the activities that we did at this event was the creation of the so called "connecting wall". It's the wall where people pin their name cards and contacts and that way the wall allows people to network in a much easier way. And I was stunned at one point when I came by the wall and I saw Keith standing in front of it.
"Keith said: "I think it's one of the best business ideas implemented within an event"."
I walked up to him and said: "Hi, what do you think of the wall? Are you just looking or searching for some specific contacts?" He said: "Nothing specific but I think it's one of the best business ideas implemented within an event". And I said: "Thank you very much". Keith congratulated me on such a simple and innovative idea that created quite a buzz. Since then we've managed to stay in touch and I've heard he has implemented "the connecting wall" within his events as well.
Discover Keith Cunningham's wealth ideas in Robert Kiyosaki's book "Rich Dad, Poor Dad" which was written with Keith's direct involvement.
Watch this Keith's video where he teaches entrepreneurs how to buy a business: